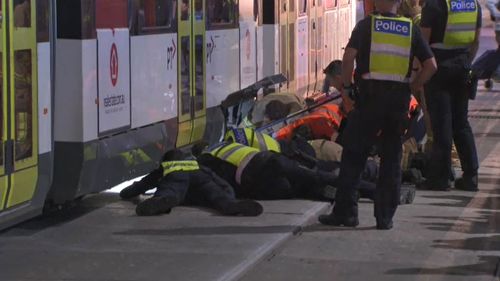 A Fire Rescue Victoria (FRV) spokeswoman said the dog ran under the tram when it pulled up to the intersection.
Bystanders cheered when the dog was safely freed and handed into the care of an animal ranger just before 10pm.
"Firefighters worked with Victoria Police and the ranger to coax the dog out from under the tram," the FRV spokeswoman said.
"There were initial concerns the dog was injured, however thankfully it was unharmed."
Police then arrested a man at the scene after realising there was an outstanding warrant for his arrest.
"A man at the scene was arrested in relation to a separate ongoing investigation," Victoria Police said in a statement.