Takeout of delivery? We've broken down the pros and cons of getting cannabis from a dispensary verse a delivery service!
The legalization of recreational marijuana has made buying weed way easier for people in more than a dozen states across the U.S. Each year, hundreds of dispensaries open in legal states, building what has already become a multi-billion dollar industry and making marijuana more accessible to people seeking high-end cannabis products.
Now, customers in California and a handful of other states can enjoy an even more convenient way to buy weed: cannabis delivery. Here, we're going to discuss the pros and cons of buying weed at a dispensary vs. delivery service and cover everything you need to know to choose the right option for your needs.
Pros of Ordering Cannabis Delivery
Weed delivery is a dream for many cannabis enthusiasts – after all, who wouldn't want top-shelf bud delivered right to their door every time they ran out? Weed delivery services are easy to use, and let you browse products in the comfort of your own home. If you are lucky enough to be able to find cannabis delivery near you, there are plenty of reasons you might prefer delivery over buying from a dispensary:
Discounts: Ordering cannabis delivery might feel like a luxury, but that doesn't mean you'll be spending luxury prices. Many cannabis delivery services offer rewards programs, regular discounts, free delivery, or other incentives to keep their customers coming back. First-time buyer discounts, rebates when you spend over a certain limit, flash sales, and loyalty programs are all common ways delivery services offer discounts to their customers.
Stay home: Whether you live far from your nearest dispensary or simply don't want to leave the house, cannabis delivery allows you to stay at home while the weed comes to you.
Get help: Cannabis delivery services often offer their customers all-day access to customer service experts who are happy to help you choose the right products, answer questions, and help set up payment and delivery information. No waiting in lines – chat live online or call for help.
Cons of Ordering Cannabis Delivery
While cannabis delivery may sound like a dream come true, as with everything, there are a few cons to be aware of before you decide to place an order.
Forgotten items: When you visit a dispensary, you can double-check your bag before you leave to be sure you have all the items you came in for. When you order delivery, double-checking for every item is up to the service, which leaves more room for error.
Long waits: While some services guarantee two-hour delivery, others might give you a super-broad window that will make it difficult to know exactly when your cannabis is set to arrive. Sometimes, delivery can take all day, making it more convenient for you to simply visit the dispensary yourself.
Pros of Going To the Dispensary
Most people fondly remember the first time they walked into a high-end dispensary, and if you like to shop, there is nothing quite like browsing through a selection of top-shelf bud. Whether you live close to a dispensary or like to make a regular trip to one a little further away, there are lots of reasons people prefer shopping in person at the dispensary vs. ordering cannabis delivery.
First-time discounts: Almost every dispensary offers first-time patients a sizable discount purely as a way of welcoming new customers to the store.
Daily deals: Many dispensaries offer weekly or daily promotional deals on overstock items, new and exciting products, or customer favorites. If you follow your local dispensary on its social media platforms, you are likely to see regular updates so you'll know which day to visit for the best prices.
Budtenders: Dispensaries are staffed by informative budtenders who are able to offer on-the-spot advice to customers looking for the perfect item. Describe what you like, and your budtenders will be able to guide you to the right products. Ask about an item you loved, and they'll be able to point you to other items that are similar.
Larger product selection: Dispensaries often have hundreds of products for sale at a time with premium products that rotate in and out weekly. Whereas some delivery services may only offer a few brands or products, your local dispensary is pretty much guaranteed to carry more items than you'll be able to count.
Less wait time: When you visit the dispensary yourself, you control when you go. Sure, you may need to wait in a line every once in a while, but you can usually guarantee that you'll be in and out on your own schedule more or less. Order delivery, and you could be waiting all day for your weed to arrive.
Cons of Going To the Dispensary
A visit to your local dispensary can be a real treat on the right day, but sometimes, leaving the house to pick up weed just isn't worth it.
Price markups: Retailers create their own product prices, and are often less concerned with being more affordable than the competition. Because of this, dispensary products are often marked up considerably, with products priced from 5-10% above what you might find from a delivery service.
Leaving home: On a beautiful weekend, a trip to the dispensary can be a lot of fun, but when the weather is bad, the traffic is slow, and you're feeling tired, delivery is far more appealing.
Long lines: While you may be able to get a good discount at the dispensary, everyone else in your neighborhood is going to be trying to get those discounts too. Dispensary lines can be long, especially on deal-days or during rush hour, so be prepared to wait.
Amateur budtenders: Every budtender has to start somewhere, but you won't always know whether the one you are dealing with is an amateur or an expert until you get home to try what they recommend. Some dispensaries staff novice or entirely inexperienced budtenders, and it can be hard to know whether or not their advice is reliable.
ORDERING MARIJUANA ONLINE OR IN PERSON, READ MORE..
SHOULD YOU BUY YOUR WEED ONLINE, READ THIS BEFORE YOU DO!
OR..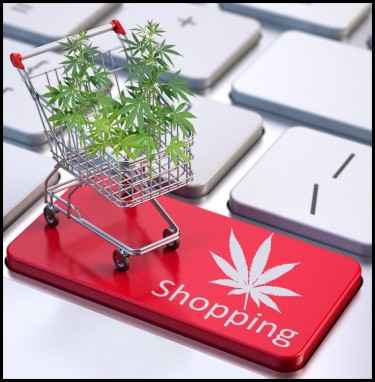 MARIJUANA SHOPPING ONLINE OR AT A DISPENSARY, DOES IT MATTER?