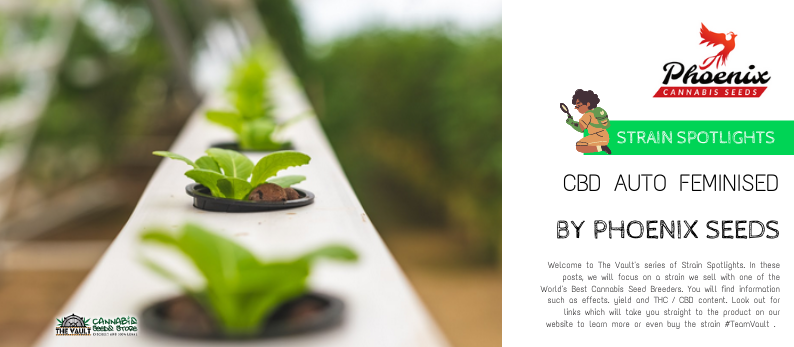 Name: CBD Auto Feminised
Breeder: Phoenix Seeds
THC Level: 8%
CBD Level: 8%
Effects: Calming, Relaxing, Soothing
Yield: High
Flavour: Skunk, Spice, Citrus
CBD Auto Feminised is a magnificent strain that is specifically designed for medicinal users. The ratio of CBD to THC is 1:1 in this strain, which means the mental effects are not as powerful as they usually would be. This, in turn, allows medicinal users to reduce their symptoms without losing the whole day. It is also a great strain for anyone who just likes a chill little hit that they can use to get through a stressful day.
Background
CBD heavy cannabis strains were created primarily for medicinal use. Prior to the rise of CBD strains the goal of cannabis was to get the highest THC levels and the best bag appeal possible. However, after it was realised that cannabis had been used medicinally throughout history and had excellent painkilling abilities the game changed somewhat. Medicinal users were getting a good deal of help from cannabis, but could only use it in the evening or at other times where movement and focus were not required. Breeders began to create CBD heavy strains, and then came the 1:1 ratio strains like CBD Auto Feminised.
Effects
Due to the high CBD to THC ratio the effects of this strain are soothing, comfortable, and relaxing without dulling the senses. The effect is functional meaning it can be used as a day time strain by anyone who is suffering from anxiety, nausea, inflammation, stress, pain, PTSD and several other ailments. It can also be used by insomnia sufferers, even though it isn't a particularly soporific strain. For some who struggle with sleep, the relaxation and comfort go a long way towards helping them drift off. It also relaxes the muscles which means it can help anyone who struggles with convulsions.
Flowering and Yield
CBD Auto Feminised will usually flower in as little as 8 weeks. This is due to the fact that it is autoflowering, not only making it faster but also easier to grow. Since autoflowering strains flower quickly growers can often manage two crops in one growing season. The yields tend to be high, which is ideal for any growers but especially for those who want to grow their year's medication in one sitting.
Flavour
The flavour is a primary aspect of what makes this strain so thoroughly enjoyable. It is a combination of sweet berries, citrus, Skunk and just a little spice. Giving it an aroma that is just as relaxing and comforting as the effect of the strain itself. It is a strain for those who really want to enjoy some relaxation and restoration after a long day or who just need a break from their symptoms.
Remember: It's illegal to germinate cannabis seeds in many countries. It is our duty to inform you of this important fact and to urge you to obey all of your local laws. The Vault only ever sells or sends out seeds for souvenir, collection or novelty purposes. All of our content is provided for educational purposes only.
Would you like to add some CBD Auto Feminised to your collection?
If you'd like to add some of these powerful seeds to your collection, The Vault is giving away an amazing 10% discount off CBD Auto Feminised, when you enter the code: Thanks10 in the cart!