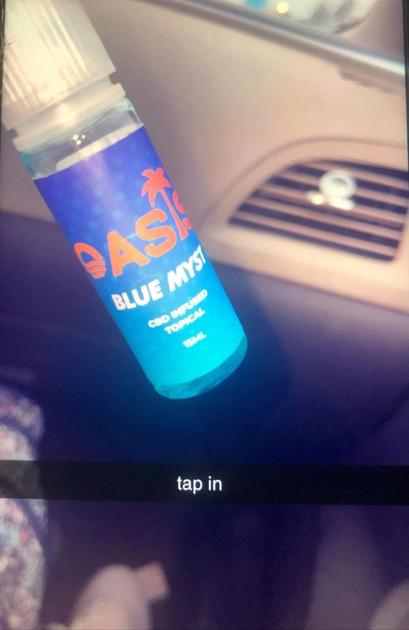 Parents, sheriff warn of dangerous 'CBD' vape
Parents are once again sounding the alarms over a synthetic smokeable that's making kids sick in Jones County schools.
It was reported last year that students were fainting and "freaking out" after vaping store-bought CBD products at school. A substance labeled "Oasis Blue Myst," which is being bought in Hattiesburg and Petal vape shops, is again making similar waves along with a product labeled "Rock Star." Numerous parents have come forward anonymously to say the fluid poses a danger, as it's not FDA approved and is known to cause seizures and fainting.
Kids are also using Snapchat to buy and sell bottles of the fluid, which poses a problem: Snapchats are deleted immediately after they're opened, making those transactions difficult to trace.
After the Jones County Sheriff's Department sent the products to the Jackson Crime Lab last year, they found that none of the chemicals were illegal but that it does share a chemical with antifreeze, said Sheriff Joe Berlin.
"It's that chemical that might be causing reactions," he said. "The first thing there needs to be is responsibility on the kids' part. The main problem is the distributors, and all of it's coming out of Hattiesburg and Petal. It's up to those agencies to step up and regulate. It's out of my jurisdiction, but I've passed information to them."
In a Facebook post that began making the local rounds Monday, Ashley Carter wrote that kids are selling and using "ceeb" in county schools. Local parents have noted teens call the drug "ceeb" as if to imply that isn't actually CBD they're vaping out of modified Alto cartridges, which are similar to Juul pods.
The JCSD warned parents more than a year ago that kids at West Jones High School were found passed out. The next day, a South Jones student had high blood pressure and reportedly "freaked out," said Sgt. Jake Driskell.
One parent, who asked not to be identified, said her teen son was nearly rushed to the emergency room after he started acting erratic.
"He started shaking badly," she said, "and started talking about Christmas presents. I was like, 'What?' His lips and everything had turned snow white. I kept asking him what was wrong, and he started to cry. … I gave him water and brought him out of it."
The stuff doesn't come up on a drug test, the parent said, so there's little to be done to get it out of schools, short of searching bags.
The teen's episode came after he hit it out of an Alto cartridge, which gives a smaller dose than does the standard vape mod device. In another instance, a friend of the boy used Blue Myst and started vomiting, the parent said.
Kids are using pliers to open up Alto cartridges and replace the vape oil with the CBD. One parent doesn't believe it's CBD at all.
"It's dangerous. These kids are slowly killing themselves. One of the main giveaways is if they've been smoking it, their vomit is orange," she said.
The Jones County School District noted that information regarding the vapes isn't available at this time.