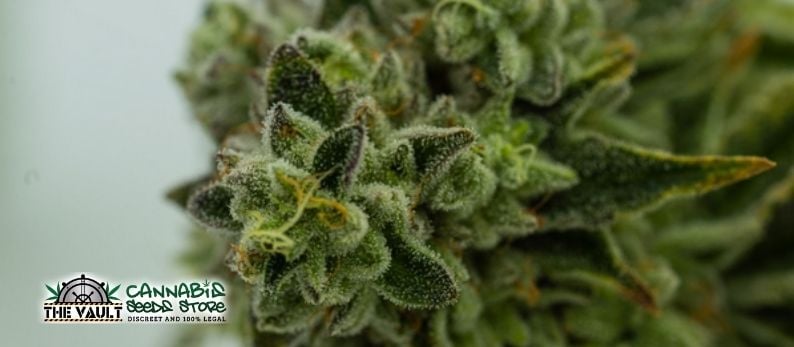 White Widow is one of the world favourites, a fantastic strain that is well known for its power and quality. She is a cross between a heavy South Indian Indica and a Brazillian Landrace Sativa. White Widow first appeared in coffee shops in Amsterdam in 1990. The name comes from the thick layer of white crystals that cover the buds. The plants look as though they've been caught in a snow storm. The effect is uplifting, creative, euphoric, powerful and perfect for conversation and company. Because of her amazing genetics, White Widow has been used to create loads of other strains. Today we are going to have a little look through some of the wonderful plants that were born of this legend.
White Widow CBD
Starting with something simple, this is just a version of the classic that is ideal for medicinal users. The original White Widow was combined with a high CBD strain to create White Widow with a CBD level of 5% and up. The THC content is around the same at 5.5%, so the strain isn't too mind-blowing. Many medicinal users need something that can support them and help with their symptoms without knocking them out for the day. This strain gives impressive yields and can be grown both indoors or outdoors. The flowering time is a nice, short 50 – 55 days.
Gorilla White Widow
This version is a combination of Gorilla Glue #4 and White Widow. This means it is primarily Indica and has a very high THC level of 25%. Gorilla Glue #4 brings it's potency to the mix and created a strain that will knock some socks off. It still has the euphoric aspect of the White Widow effect and brings the couch-lock power of Gorilla Glue. This makes it an amazing strain for evening use and for just chilling out in front of the tv. Not a strain for the faint of heart, or novices. Gorilla White Widow has a flowering time of 55 – 60 days and can be grown indoors or outdoors.
White Widow X Big Bud
This strain combines White Widow with another truly iconic strain known as Big Bud. It might be pretty easy to guess what Big Bud brings to the table. Its massive yields make it the perfect strain for commercial growers. Not only will this strain produce amazing yields but the buds themselves are powerful, potent and delicious. The THC level is high but not so high that it spoils the chill euphoria of White Widow. This strain is extremely relaxing and ideal for evening use. It also works well as a day time medicinal strain due to its functional high, maybe just not for those who need to get a lot done. This strain is easy to grow, always produces fantastic results and can be grown indoors or outdoors. It is also a great strain for hydroponic growing and has a flowering time of 50 days.
White Widow Express
White Widow Express is a cross between original White Widow and a Ruderalis strain. Essentially it is just an autoflowering version of the original that has a faster flowering time. Since it is autoflowering this version of White Widow will flower on its own at a certain point in its life rather than as the result of a light cycle. This can make it a bit easier for novice growers to deal with. This strain has the same impressive THC level of the original, and the same euphoric and uplifting effect. Autoflowering strains also tend to have larger yields, so this is also a great cross for commercial growers. It has an interesting scent and flavour, a mix of citrus and spice that is pretty mouthwatering. The flowering time is an extremely short 49 days and White Widow Express can be grown indoors, outdoors or in a greenhouse.
White Widow X The Ultimate
There was a fair bit of talk when these two power hitters were brought together. Both of these strains are potent, delicious, powerful and energetic. Together they make a truly impressive strain with resinous buds and reliably large yields. This is thought to be a perfect strain for old school growers and smokers who like a classic high with a classic taste. The high is intense but still active which makes it fantastic for socialising, getting things done, being artistic and just enjoying life. The scent and flavour is a mix of earth and pine with heavy citrus overtones. The THC level is usually around 17 – 19% and can grow in a variety of environments. It does well indoors, outdoors or in a greenhouse and has a flowering time of 56 – 70 days.
Afghan Kush X White Widow
Afghan Kush is famous as one of the OG strains, a powerful 100% Indica strain. Combine this with White Widow and we have a resinous, high performing strain that makes a wonderful evening therapeutic smoke. This strain is sleepy, soporific and has a full-body relaxation to it. This makes it ideal for those suffering from insomnia, anxiety, depression and chronic pain. The THC level isn't too crazy at 15%, enough to ease off the stress of the brain without inducing any unnecessary anxieties. This strain has a flowering time of 55 – 65 days and can be grown indoors, outdoors or in a greenhouse.
White Gold
Let's finish with a very special lady, a combination of the famous Himalayan Gold and our lovely White Widow. This strain is Indica dominant but it has maintained the happy and uplifting effect of original White Widow. This strain has a resin layer so thick that its hard to see any green under all that white. This is another hybrid that is amazing for those struggling with depression, anxiety, insomnia and stress. It is genuinely relaxing throughout the entire body and mind. At night when the plant gets cold the leaves turn dark purple, causing it to resemble a starry sky. It has a flowering time of 50 – 65 days and will grow well indoors or outdoors.
Legal Disclaimer: The competition winners will have their prizes sent to them via recorded delivery. If you win the competition but don't receive your prize, we cannot resend competition prizes, so you'll have to raise this with your local delivery service (In the UK, for example, this would be Royal Mail).
Remember: It is illegal to germinate cannabis seeds in many countries including the UK. It is our duty to inform you of this fact and to urge you to obey all of your local laws to the letter. The Vault only ever sells or sends out seeds for souvenir, collection or novelty purposes.
Make sure you never miss another Vault promo and sign up for our newsletter at http://goo.gl/Bt2Ba2