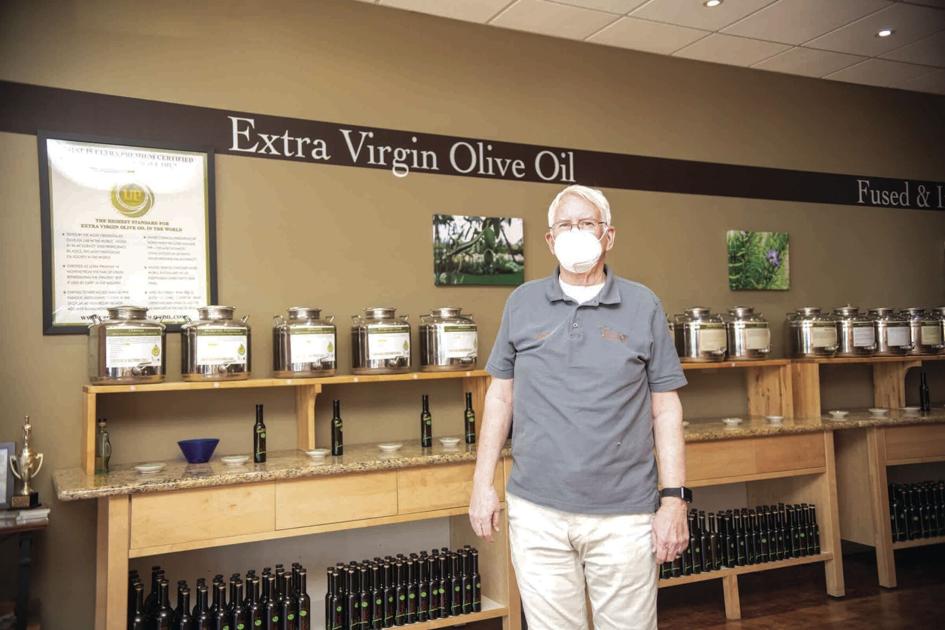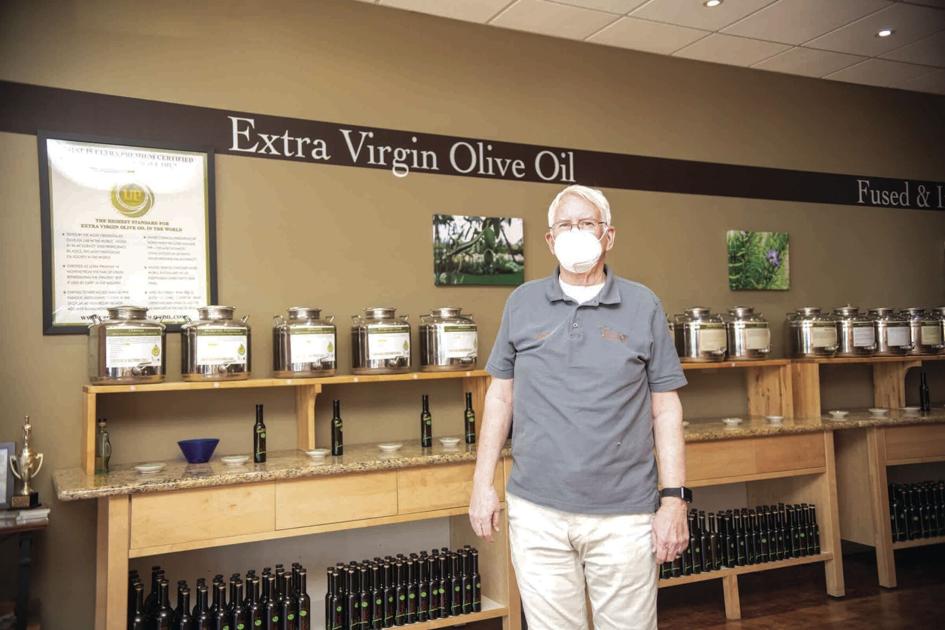 Richard Morgan said he was reluctant to start selling CBD products at Tree of Oil in Goodyear.
Morgan is the co-owner of the veteran- and family-owned store, which sells a wide variety of specialty cooking products, like ultra-premium certified extra virgin olives oil, aged balsamic vinegar from Italy, locally sourced honey, sea salts and teas.
While it is a specialty food store, Tree of Oil makes an effort to provide the best and healthiest products at a reasonable cost, Morgan said.
Tree of Oil is located on the northwest corner of West McDowell and North Litchfield roads and opened in 2014, starting with 35 products and growing its inventory over the years to offer 77 different olive oils and balsamic vinegars.
It offers unique fused and infused olive oil with lemon or garlic, also selling sophisticated options like cherry, grape, fig or elderflower balsamic vinegar.
The customers can try the oils and balsamic vinegars, which are neatly lined across the edges of the store with informational cards stating its name, origin and flavor palates.
Tree of Oil brings in customers from all over the United States and Canada, and many become loyal customers after their first purchase, Morgan said. People will even stop in just to say hi, even if they don't necessarily purchase something, Morgan said.
However, he was worried about how people would react to the store selling this kind of product.
CBD, or cannabidiol, is a naturally occurring substance that comes from the same cannabis plant as marijuana. However, CBD is non-psychoactive, and its health benefits can provide relief for ailments like back pain, insomnia and inflammation.
However, his partner and the store's co-owner, Fredy Sanger, explained why selling CBD goes hand in hand with the store's mission.
Part of the store's motto is "Be happy, be present," Sanger said.
Not only does the store provide its customers with "amazing" products, but "we give this option for you to feel well enough to actually cook," he said.
"You cannot be present in pain. You cannot enjoy a good meal in pain. And that's what we love about CBD."
The store has been selling organic, USDA-approved CBD for two and a half years now. Customers over the age of 18 can choose from products like CBD tinctures, gummies, bath bombs, soft gels, hand and sports creams, salves and powdered sports drinks. All its CBD products are also tested to ensure it has 0% THC, Morgan said.
Sanger and Morgan even went to two seminars on CBD to provide customers with the best knowledge of products.
Customers' canine companions can also experience these health benefits, as the store sells CBD dog treats and tinctures with formulas designed just for them.
Morgan first started getting into CBD when he used it on his Alaskan malamute, Kodiak. Seeing how much CBD helped Kodiak and his other dogs find relief from hip dysplasia, he decided to try it for himself.
Last year, Morgan had to undergo a full knee replacement surgery due to his severe arthritis in his left foot. His arthritis affects his hands as well.
"I was in a lot of pain," Moran said. "I started taking CBD after it worked so well for (my dogs), and I virtually have no pain in my hands or in my feet anymore."
Kodiak has since passed, but Morgan and Sanger's love for CBD remains. They still use it on their dogs to help them find pain relief and relaxation, also using it personally.
Despite Morgan's apprehension, selling CBD at Tree of Oil has "worked very well for us," he said. They've seen around a 90% return rate with customers.
Sanger explained how CBD also helps many customers with sleep issues like insomnia.
"If you don't sleep, you're worthless," he said. "You're just not even a penny of your worth. Customers take this pill, and they have their life back."
Sanger said he knows this because he's seen the results himself.
The soft gels containing curcumin are Morgan and Sanger's favorite and most popular of the CBD products they sell. Curcumin is a natural antioxidant that comes from turmeric root, which also reduces inflammation.
The other most popular products are the tinctures with 1,350 milligrams of CBD, the highest amount the store carries. The energy drink packets are also very popular, which don't contain all the "junk" that's in other unhealthy energy drinks, Morgan said.
CBD brings in first-time customers and attracts many loyal customers as well. The only issue is "so many people still don't know we're here," Morgan said.
Word usually travels through mouth among other customers, "which is the best kind of advertising," Morgan said. The store has taken additional efforts to advertise itself and the CBD products it sells to get more people in the door.
While they saw good results from selling CBD, the passage of Proposition 207 "hasn't changed anything for us," Morgan said.
"We are a store for families," Sanger said. "Having THC in the store is not something that goes hand in hand with our philosophy."
Selling products with THC would also require many permits, which are very expensive, Sanger explained.
COVID-19 already brought forth a significant financial impact on the store; however, Morgan and Sanger have taken measures to adapt to the times and provide specialty products to customers in the safest manner.
Tree of Oil offers local delivery and curbside pickup, and customers all over the United States can have their quality products shipped to their homes with its online website.
It also offers free local delivery and free shipping on CBD orders.
The store used to give out bread to its customers to try the oils and balsamic vinegars with; however, this has temporarily stopped to mitigate potential health concerns.
Tree of Oil also temporarily discontinued its cooking instruction demonstrations led by Sanger, who is a chef.
The last cooking instruction with everyone together was over a year ago; however, "We will start again someday," Morgan said.
Tree of Oil plans to celebrate its five-year anniversary in late April by bringing in barrel-aged smoked and spiced maple products from Maine to sell in the store.
Morgan retired from his job as an electrical engineer to open Tree of Oil with Sanger, who is from Columbia. Both knew they wanted to open a store involving food, as Sanger is a chef, so they decided to focus on the world of specialty olive oil and balsamic vinegar.
"The store is very important for us because it shows how much we love cooking," Sanger said. "The good thing about specialty food stores is it makes for a special kind of bond with your customer."
Hearing people talk about how they used the store's products to make a creative meal to enjoy with their families is "amazing," Sanger said.
"This is how we meet and interact with new and returning customers, which for us is amazing. It's very gratifying," he said.
"Seeing somebody tasting your products and making happy faces, it fills you up. It makes you happy, and that's a feeling that you don't ever want to stop."
Source: https://www.westvalleyview.com/online_features/tree-of-oil-helps-customers-be-present-be-happy/article_4aa95ae4-7b9b-11eb-aced-2322f020a511.html
» Inline Ad Purchase: Intext Link